Data Science Summer School 2018
In 2018 Göttingen University hosted again an International Summer School on Data Science.
The Date: August 02-16, 2018
The Location: Alte Mensa, Göttingen
The Topics: The focus laid on providing an overview of the multilayered topics and methods belonging to Data Science. Such as
Deal with the Data Lifecycle
Best Practices in Data Management
Methods (Modeling, Statistics, Mining, …)
Infrastructures and platforms
Application examples
Ethical, legal, and social aspects
The Lectures: Lecturers from several disciplines enabled cross-disciplinary insights:
Mathematics
Computer Science
Economics
Geography
Medicine
(Statistical) Bioinformatics
Engineering Sciences
The Participants: The Summer School welcomed 32 participants with 16 different nationalities coming from institutions in 9 different countries. The participants were granted 3 ETCS for their work during the course.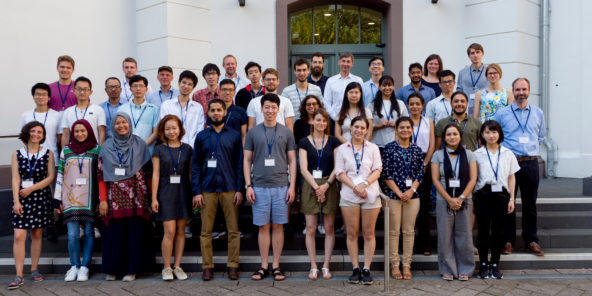 The Organisation: The Summer School is organized jointly by the Institute of Computer Science, Göttingen International, the GWDG's and SUB's joint service unit on research data management – Göttingen eResearch Alliance, and the University Medical Centre.
Responsible organizational Team:
Prof. Dr. Ramin Yahyapour (Institute for Computer Science)
Prof. Dr. Ulrich Sax (Institute for Medical Informatics)
Dr. Sven Bingert (GWDG)
Timo Gnadt (Göttingen eResearch Alliance, SUB)
Dr. Katharina Jannasch (Göttingen International)
Lena Steilen (Göttingen eResearch Alliance, GWDG)