As one of the first German universities, Göttingen University released a Research Data Policy on July 1, 2014, to guide its researchers in the various questions concerning the handling research data. This guideline builds on the Principles of Good Scientific Practice and the University of Göttingen's Open Access Policy and is aligned with the respective national guidelines provided by the DFG (the German Research Foundation) on Good Scientific Practice.
As Göttingen eResearch Alliance, we actively support researchers to plan and conduct research data management according to the Research Data Policy of Göttingen University (incl. UMG). We assist researchers in finding and using digital tools and services to address their research questions even better, or to develop new research questions.
eResearch is the application of digital tools and methods for pursuing and supporting
enhanced research
eResearch technologies and sustainable data management are becoming a part of the everyday life of researchers and students. In order to prepare them for this challenge, we want to integrate general and discipline specific courses on eResearch topics into the academic curriculum of Göttingen University.
Our services cover eResearch aspects across the full research life cycle. They range from advice on research data management plans in the preparatory stage of research projects to the application of digital tools and services during the actual project phase to publication possibilities, archiving solutions and retrieval options for research data at the end of projects.
Excellent research needs excellent infrastructures
The Göttingen Campus infrastructure providers, such as GWDG, SUB, and UMG, provide innovative and sustainable eResearch services and infrastructures.
They provide support to researchers by connecting them with the right services and experts by building a strong eResearch network on the Göttingen Campus and by providing individual advice. To strengthen these efforts, the eResearch Alliance was established by the Presidential Board of Göttingen University in 2014 and is run mutually by the Gesellschaft für Wissenschaftliche Datenverarbeitung (GWDG) and the Niedersächsische Staats- und Universitätsbibliothek (SUB) as a central point of contact for researchers, research associations and faculties. The University Medical Center (UMG) is the third partner since 2015. The cooperation of these experienced infrastructure providing institutions ensures the transfer of knowledge between the partners and across the campus.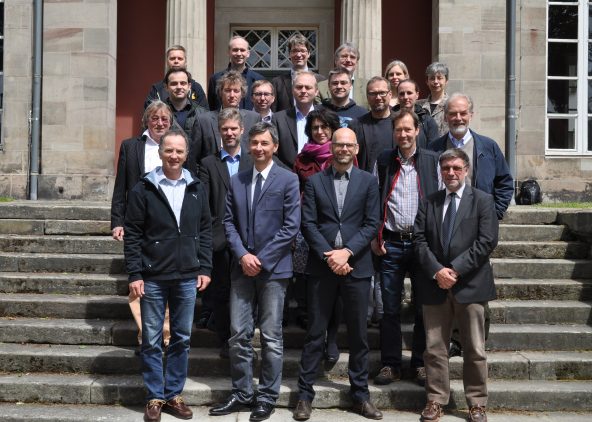 The eResearch Council
An important part of our work is building an expert network on the Göttingen Campus. A vital role in this process is taken by the eResearch Council for the Göttingen Campus, a Campus wide network of eResearch specialists which acts as strategic advisory body for the eResearch Alliance. This board consists of about thirty researchers from all faculties of Göttingen University and the Göttingen Campus partner institutions.
The External Advisory Board
The external Scientific Advisory Board of the Göttingen eResearch Alliance advises the presidential board of the University on the orientation and further development of eResearch-related services to provide the best possible research and information infrastructure for the Göttingen Campus.